Ronda Smith, Broker/Owner:
As a real estate agent with more than 30 years of experience in listing and sale of income, commercial, land, and residential property, I never tire of real estate. The arena is constantly shifting and I am intrigued by its impact on our society, the nation's economy and each individual's growth of financial security as well as sense of home. Presently, I am the Headlands Real Estate Brokerage Broker/owner and a recently retired City College of San Francisco real estate instructor. In the past, I initiated and developed two successful businesses, a real estate office and a San Francisco art gallery. The gallery received national and international recognition - featured in numerous notable publications such as the Wall Street Journal, Esquire, the San Francisco Examiner/Chronicle, and the Oakland Tribune as well as on television and radio both here and abroad.
HUD Properties
I am a HUD-registered, Northern California Broker.
A real estate broker must go through the process of registration and certification with HUD before the broker can show or submit offers to HUD. Email me if you wish to receive further information.
Also, I am a HAFA certified specialist.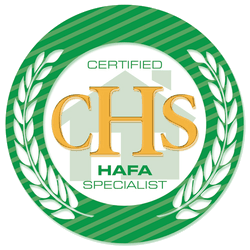 I have a 5 star Zillow rating with the following testimonials:
Highly likely to recommend
Ronda helped us buy our home in Santa Rosa. She could not have been more helpful or patient, never flagging as we shopped for months, actually making the process fun. We never felt any pressure, and benefitted greatly from her extensive knowledge of the local market and the daunting world of real estate procedure. Thanks to her, we ultimately found a home that we love. Posted by Bob M. and Vern C.
-----
Highly likely to recommend
Ronda helped me to buy this home and, when the time came, she helped me sell it. Having worked with other realtors in the past, I found that Ronda is without a doubt the best realtor I've ever worked with. She is so knowledgeable, smart, friendly, patient, and a person of such integrity. It was a pleasure to work with her. Since then, I have referred several other home buyers and sellers to her, and they've all been equally impressed with her. Posted by M Hince
------
Highly likely to recommend
I would recommend Ronda Smith because she was there to help me through what could have been a stressful process with her very honest, calm and friendly way. It felt like I had a friend to help me through the ins and outs of buying a home. Without Ronda's expertise I wouldn't have found the place that has worked so well for me. I will continue recommending Ronda to friends and relatives. If I decide to sell or buy another home I will definitely give Ronda Smith a call. Posted by G. Bayreuther
-----
Highly likely to recommend
Ronda is exceptional! She knows the area very well; is unusually knowledgeable in and sensitive to remodeling suggestions as she has beautifully remodeled each of her homes; she goes out of her way to schedule viewing appointments and is prompt in returning phone calls. Ronda comes up with great suggestions for negotiation and is truly an expert in all steps of the buying and selling process. She found our house in Willits, gave us ideas about remodeling, , renting it out, and three years later at just the right time helped us sell it. Ronda is the only realtor whom I recommend to friends. Posted by Carol H.
-----
Highly likely to recommend
We found Ronda through her ad on Zillow and chose her due to all the great reviews she had received. We had been working with another agent for about 6 months without ever putting an offer in, as none of the homes we saw matched our stated preferences. Within a week of working with Ronda, we put our first offer in, and four more offers to soon follow, and we had our very first home purchase within 2 months! Ronda listened to us to find out exactly what we wanted, the type of area, and what level of "fixer" we could handle. She found us a cute bungalow in a great neighborhood with lots of built-in equity, and kept us in the loop every step of the way. Ronda did not hold our hand through the first-time home buying experience, instead she put her arm firmly around us and deftly guided us along the way. In addition to being an experienced real estate broker, Ronda is a super nice person as well: a joy to work with! Posted by Rivergirl -Highly likely to recommend Summary: Ronda Smith is a great agent, and we highly recommended. We worked with Ronda from 2008 till we finally found our first home in 2010 (which we're still in). She is an upbeat, kind, knowledgeable professional. Additionally, she's a real estate instructor, so she knows all the ins and outs of the real estate industry thoroughly. She's probably the best real estate agent in the county. As the other person said Ronda is "ABOVE & BEYOND" any other real estate agent out there. Posted by Ruth E
-----
Highly likely to recommend
Ronda worked very diligently and professionally in finding this house for us. She spent many hours researching potential houses that fit our needs and found us the perfect house. Much to my surprise, the entire process of buying a house (our first) proceeded without a hitch, thanks mainly to Ronda. Posted by S. Rubin
-----
Highly likely to recommend
After having heard many horror stories about house purchasing - particularly with a limited income - my husband and I felt we would always be renters. Ronda changed all that. Not only did she find us a wonderfully affordable house, she made the entire experience delightfully easy and exciting. Posted by Karen L.
-----
Highly likely to recommend
Ronda Smith was very professional and personal. She listened to all of our needs in finding the perfect home and then found it! She was always available and extremely flexible to all of our needs. When looking at houses she was relaxed and gave us plenty of room to explore on our own, yet at the same time was available with extensive knowledge when we inquired. She created a relaxed environment in a very stressful line of work. We could not have been happier working with Ronda and look forward to future real-estate possibilities. Posted by jendog44
-----
Highly likely to recommend
Ronda helped us purchase a home in Santa Rosa. She was always available to handle any problems that would arise during our escrow, day or night. She would put our worries to ease and keep our transaction running smooth. We have dealt with other agents in the past, but due to Ronda's knowledge base of the local market and her "ABOVE AND BEYOND" customer service we will continue to use her in the future. Thank you Ronda you are a true blessing! Posted by Jason S.